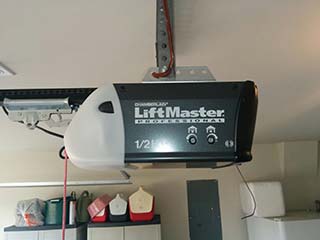 Is Your Opener Causing Trouble?
You might not know for sure, but we will! There are a number of issues with your garage door that may be related to your opener. If your door won't open easily, if there's a lot of noise when it does, or if it's simply behaving oddly in general, it's time to give us a call and let our professional technicians check things out for you! We can help you determine the source of the trouble, and find the best solution for it.
Why Does My Garage Door Opener Not Work?
You can attribute all sorts of reasons as to why the opener of your San Marcos garage door fails to function properly. A broken or worn motor gear will prevent the machine from generating horsepower to move the door. If the opener chain breaks, or the belt tears, the main muscle of the drive system will not have any functionality. Garage door opener troubleshooting helps uncover the root cause of different problems. Of course, to do this, you often need to understand how these machines work and what potential problem causes can be. That's why our local garage door opener repair specialists offer same-day solutions throughout the nearby areas. When your opener stops working, we'll help you get it going once more.
Minor and Major Repairs
Using the highest quality parts and tools, our professionals will be able to take care of your opener's specific needs. Its various parts may simply need some maintenance work, or be thoroughly repaired in some cases. Whatever the issue, our experts are highly versed in handling every model, so it'll be easy for them to figure things out and they'll be out of your hair in no time! If the remote or wall-mounted panel is the source of the problem, we can repair or replace them as necessary.
Fast And Reliable Installation.
Should your opener prove to be beyond repair, or too old to continue to function as well as you'd like it to, we can take it out completely and install a brand new one! Our team would be happy to help you decide on which model would best suit your home and will also be able to last for the longest time. As far as the installation process is concerned, our experts will get it put in no time, so you won't be stuck waiting around for your garage to be usable again.
Don't Wait Any Longer!
Rather than continuing to suffer with a system that struggles to do its job properly, do something about it! Contact Garage Door Repair San Marcos today and let us take care of all your opener issues. We'll have it working as good as new in no time!
Repairing Garage Door Openers in San Marcos
For quick assistance with automatic overhead door systems, you've got local experts to turn to seven days a week. Garage Door Repair San Marcos offers opener troubleshooting for LiftMaster, Sears, Genie, and all other name brand models. We replace broken gears in the opener motor, as well as chains and belts for drive systems. Dealing with an electrical problem? We can also help with electric opener repairs, replacing wires, logic boards, and other components, including misaligned photo eye sensors. When you've got problems with your garage door opener, get help from the best technicians in your area – today! With speedy services and cheap replacement parts for openers, repairs become easy and fast. Call us anytime for quick opener repair services for any garage door system.
In addition, count on us for:
Liftmaster Garage Door Maintenance
Genie Garage Door Openers
Oil Tempered Torsion Springs
Bent Garage Door Track Repair