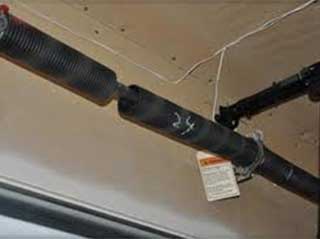 What Are They Used For?
Your door wouldn't move an inch without them. You may think that it's the cables' job to pull your door up, but that's not entirely the case. These garage systems are far heavier than they seem, and therefore appropriate force must be applied in order to effectively pull them. A common misconception is that the opener is responsible for the door's movement, but the components doing the actual "heavy lifting" are actually the springs.
The type of spring your system has determines how this energy is gathered. Extension means this component stretches out, and the tension from that stretch stores the power needed. The torsion type, on the other hand, uses the act of twisting up tightly to achieve the same goal. In both cases, this continuous gathering and releasing of tension on a daily basis, and a couple or more times a day at that, takes its toll over the years, which is why these components eventually need to be tended to.
Our Experts Are Happy To Help!
Whichever type of spring your door uses, our team can take care of it! We've been operating in this field with for a long time, and have become beyond well versed in quickly and easily handling every possible issue. With torsion springs being generally safer as well as usually lasting longer than the extension type, a lot of our customers choose to upgrade to them.
On the other hand, should you simply need some repair work done, or to have something completely replaced, our technicians use professional tools to safely and skillfully get the job done. We put an emphasis on expediency whenever our team goes out on a service call, but we never favor speed over quality.
Don't Try Dealing with it. That's what we're here for.
If your door starts shaking when being used, or only goes up halfway, the spring is likely the culprit. Don't worry! Simply call our Garage Door Repairs San Marcos team and we'll handle it for you.
When it comes to your door, we don't settle! We also offer:
Garage Door Off Track Repair
Emergency Broken Spring Replacement
Belt Drive Opener Installation
Part Replacement & Repair